California Fugitive Recovery Agent Training

Bail Enforcement 20 Hour Pre Licensing Certification Courses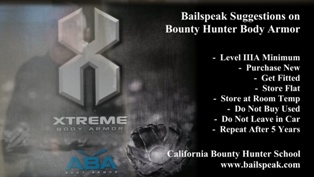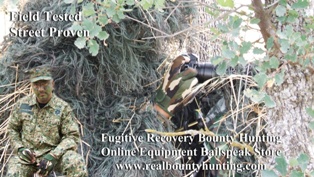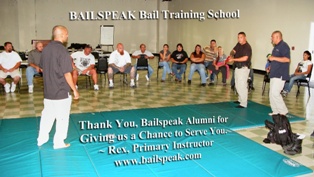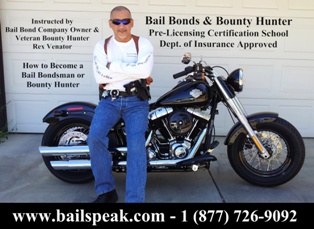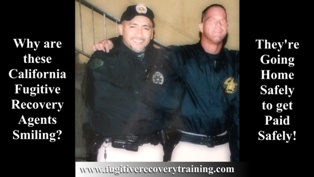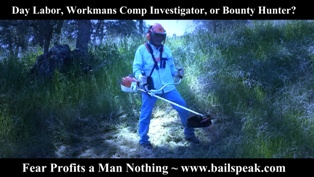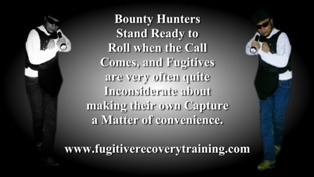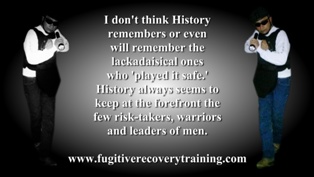 There is No Other Bail Fugitive Recovery Agent Training Certification School Capable of Offering this Exclusive Brand of California Department of Insurance Approved and Penal Code 1299 Compliant Classes
Enrollment Information Registrar ~ 1-877-726-9092
Fugitive Recovery Agent Requirements to become a bail bondsman or bail enforcement agent who practices the bounty hunting arts, while seemingly direct, pursuant to California Penal Code Sections beginning 1299 and including 1300, 1301 and even Title 10 Code of Regulations, are immeasurably more convoluted to the extent that one's more precise queries fall into the realm of questions more on point to lawful bounty hunting with an emphasis on staying out of criminal court, civil court, ICU, and a county morgue.
The below YouTube video by Bailspeak's own Fugitive Recovery Agents begins to delve into the complexities of how to become a bounty hunter, but, at the same time, it is important to embrace that bail training is hyper-critical and that Bailspeak, undeniably, Leads the Way in California Bail Education Training.
Listen very carefully and, while you may have to pause or watch the video several times, please read the text that appears.  A Promising new fugitive recovery agent will be able to catch the subtle nuances that others may not.
This Bail School offers the following courses for those wishing to get people out of jail and for those wishing to put them back into jail:
·         CDI Approved 20 Hour Bail Agent Pre-Licensing
·         Numerous 6 Hour Continuing Bail Education Classes
·         TASER Awareness Classes for Bounty Hunters
·         Bail Marketing and SEO services
·         Bounty Hunter Marketing
·         Bail Law & Motion Studies HERE

·         Real Bounty Hunter Street Training HERE

·         And etceteras
At the time of this writing, Bailspeak's Primary Instructor, Rex, is the only, undisputed California Bail Education Instructor with a long and ongoing history of legally running bail bond agencies, LEGALLY drafting bail bond motions as an appointed agent for over a dozen sureties, LEGALLY appearing in open court to argue bail motions, and lawfully bounty hunting on the lesser-known mean streets of California within the language and meaning of various Insurance, Business & Professions, Penal and Title 10 Code sections.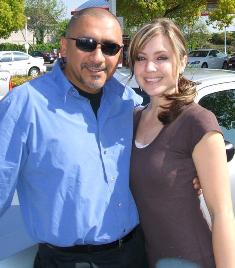 What Does it Take to Become a Bounty Hunter in California?
The Following Fugitive Recovery Training Video will provide you with some insights.
Hereafter is a Brief Message from Bailspeak's IT Expert, Nicole Venator.

Body Armor is often characterized as "bullet proof" by Hollywood and the public-at-large, but a more accurate description is "bullet resistant" and whether or not a particular rated type of Kevlar with or without specific type of ceramic plates will defeat this round or that.
Let us keep things simple as is, well, bulleted in the photo in terms of the very basic understandings of body armor for bounty hunters.
More information on body armor for bounty hunters may be a very specific block of instruction at any of Bailspeak's California Department of Insurance Approved 20 Hour Bail Agent Pre-Licensing Classes with respect to students who have questions and will get answers accordingly.
Stay Safe and Watch Your Sixes ~ Rex
Consumer Protection Advisories

Bounty Hunter Schools is a common set of keywords used by those conducting Internet searches and who are wishing to delve into the art of Fugitive Recovery as a Bail Enforcement Agent.
One must take care to fully research any and all purporting to be affiliated with or teaching or otherwise running what is commonly called a Bounty Hunter School.
There are immediate "Red Flag" declarative statements, generally in writing but sometimes orally (if the listed phone number is actually answered) made, that should serve as cautionary axioms that fire up synapses between a person's neurons with emphasis in the realm of strong warnings such as follows:
·         Be Certified to Bounty hunt in all 50 states—Legally Impossible!
·         Earn up to X amount of dollars yearly—Impossible to Individually Calculate!
·         Job Placement Available—Bail Simply Doesn't work in this way!
·         Earn Your Bounty Hunting Degree—Un-accredited "degrees" may cost $60K!
·         Earn Your Degree Online—Costly and Unproven Effectiveness!
·         Join a "Network" for X amount—There is no known So-called "Network"
·         Criminal Justice Degree needed—See above "Red Flags"
·         Out of California so-called bounty hunter wants money up-front
·         A person who is not a licensed bail agent offers you "paper."
So how does one become a bounty hunter?
1.      Research the laws of the state where you intend to bounty hunt in, if it is legal in your state at all, and seek out training and education in that precise state!  There is no known program that can train you in all of the states where there is commercial bail.
2.      Bounty Hunting is a Trade, like that of a carpenter, electrician, plumber, or machinist to the extent that one should strive to become an apprentice under a veteran bounty hunter who bounty hunts legally.
3.      There are many ways to become a bounty hunter, and the Red Flags noted above should be thoroughly investigated for veracity, legality, and reputation.
Bailspeak is a California Department of Insurance Approved Bail Education Provider with over 1,900 Alumni and many of whom are now working in the bail bonds industry; indeed, top bail bond and bounty hunting recruiters routinely contact Bailspeak when hiring!
Are you an experienced bail bond company owner or bounty hunter or both?  See a proven, winning small business model designed to get your bail bonds and bounty hunter training school up and running at the bailinstructoracademy.com by way of bailspeak.com as a comparator.
Fugitive Recovery Training is imperative long before one takes action as a fugitive recovery agent who is tasked by bail a bail bonds company owner to conduct bail enforcement operations that are designed to investigate, locate, apprehend and transport a wanted fugitive who has jumped bail back to the jurisdiction from whence the bail jumper in question had fled.
There a great many disciplines to consider in the fugitive recovery trades in order to legally bounty hunt and to bounty hunt safely: knowledge of one's legal authority as a private citizen to hunt and arrest another private citizen, a working knowledge of how to deescalate potentially critical incidents, personal self defense, physical fitness consistent with fugitive recovery, agent safety, tactical strategies, firearms safety and weapon retention, and how to stay out of criminal court, civil court and the morgue.
Here we arrive at one of the most overlooked aspects of the fugitive recovery business, which is, purely and simply, that a fugitive recovery agent is, in point of fact, running a small business that will require another whole set of commonly neglected skillsets: marketing, advertising, search engine optimization, outpacing competition, winning clients, client retention, tax liabilities, and this list can on for many more hours.
In this video, all the puzzle pieces of how to become a fugitive recovery agent are "hidden in plain sight" to the extent that most people will quickly lose interest and move on, but skilled fugitive recovery agents will see the content of this video for what it is.
Stay Safe and Watch Your Six,
Rex Venator
Bailspeak Fugitive Recovery Training Instructor
The Bailspeak Fugitive Recovery Equipment Depot for Bail Enforcement Agents has been completely renovated and is now Fully Joy with Kevlar, Taser, and Much More!

CONSUMER PROTECTION ADVISORY
Has someone offered you "paper" to start your own Bail Bonds Company and act as your de facto general agent when such person by deceit, omission or failure to fully disclose critical information about his or herself that led you to reasonably believe that he or she is or ever was a California licensed bail agent when such is not and has never been the case?
Such recent reports are very commonplace and have been ongoing and for years!
As a moral and ethical responsibility to the "protect the public"—within the spirit of Insurance Code §1724.5 (e)—the aforementioned and heretofore general opinion is hereby presented, and the below insurance code sections are listed for you to begin to decide for yourself as to whether or not someone met or failed to meet the duty of candor.

*  *  *
Insurance Code
§1800(b)
"For purposes of this section, 'solicit' shall include any written or printed presentation or advertising made by mail or other publication, or any oral presentation or advertising by means of telephone, radio, or television which implies that an individual is licensed under this chapter, and any activity in arranging for bail which results in remuneration to the individual conducting that activity."
Insurance Code
§1800.75
"No person shall advertise or hold himself out as engaging in the business of executing, delivering, or furnishing bail bonds or undertakings of bail whether or not for consideration without holding at the time thereof all proper licenses required by this chapter.
Insurance Code

§1814
"The violation of any foregoing provision of this chapter, or of any rule of the commissioner made pursuant thereto, is a public offense, punishable by fine not exceeding ten thousand dollars ($10,000), or by imprisonment in the state prison, or in the county jail not exceeding one year, or by both such fine and imprisonment."
Those persons who believe that they may have been induced by intrinsic fraud or otherwise have been victimized and suffered financial or emotional injury may consider contacting the California Department of Insurance Consumer Hotline via its website.
"To sin by silence when they should protest makes cowards of men."
~ Abraham Lincoln
CONSUMER PROTECTION ADVISORY concerning very curious online universities purporting or otherwise leading the reasonable person to conclude that VERY expensive, unaccredited degrees are somehow required to become a bounty hunter or bail bondsman in California when such implications are simply and purely NOT TRUE based on ongoing reports from real people over a 20 year period who are now working in various capacities in the California Bail Bonds Industry as posting bail agents or fugitive recovery agents and clerical staff. 
Caveat Emptor.
Copyright 2014 Bailspeak, All Rights Reserved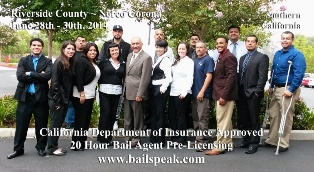 This is a Real Fugitive Recovery School and with Reproducible Results, but please read the following for your personal safety and well being ~ Thank You, Chrisine.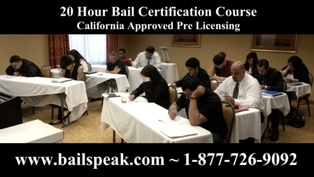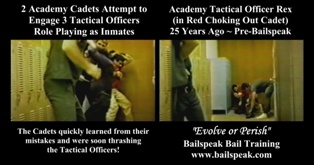 Bailspeak's Bail Training Course Curriculums are constantly under Research and Development with actionable aspects of its fugitive recovery training going back decades beginning with childhood street fights, classical martial arts training, field testing the classical martial arts training in later street fights, military and civilian law enforcement training and experience, and then taking the aforementioned foundational building blocks and adapting what worked, over a two decade period, and applying street proven instructional blocks of instruction into what is today California's Most Trusted, Most Transparent, Fastest Growing and first choice of bail education providers concerning those top agency recruiters looking for new hires in bail enforcement, bail bond posting agents, administrative personnel, and ministerial bail business employees—the last points of which are openly shared and directly attributed to hundreds of Critical Response Training Academy and Bailspeak Alumni who put it all in writing.
It has been opined that one cannot learn bounty hunting from a book, but such a premise presupposes that the book in question was based on earlier sources and not from the actual experiences of its author who himself abhors the plagiarism of those with no published works who declare such things in the first place.
Fugitive Recovery Training in California should consist of education in the legal authorities to bounty hunt as a Penal Code 1299 Compliant bail enforcement agent, but, also, one should take care to fully investigate a course for what is commonly known as a career ladder insofar that one has the option to eventually start his or her own bail bonds company.
Moreover, if one is serious about becoming a fugitive recovery agent with a future in developing and maturing into a bail bonds business owner then it only stands to reasons that one's initial bail training be instructed by a verifiably long-time bounty hunter and bail bond company owner who is and has been licensed by the California Department of Insurance as a bail agent for nearly 20 years.
At the time of this writing, Bailspeak's primary instructor is the only known California Bail Education Instructor with an extensive background as a legally operating bounty hunter of 22 years, licensed bail agency owner, legally authorized agent for sureties regarding nearly 350 granted bail bond motions lawfully filed and heard in open superior courts in numerous counties, and as a bail agent pre licensing and continuing education instructor now approaching eight consecutive years of service with nearly 4,000 actual live class Alumni and many of which have been and are now working in the California Bail Bonds Industry.
Bailspeak is a California Department of Insurance Approved Bail Education Provider since 2007 and with roots going back to 1996 as the Critical Response Training Academy based out of Tracy, California.
How to Transport Bounty Hunting Self-Defense Firearms and Fugitive Recovery Equipment in a Pickup Truck
Truck Bed covers and organizers may be critical to fugitive recovery agents practicing the bounty hunting arts as bail enforcement agents in order to protect valuable equipment such as night vision, firearms and other types of digital equipment from inclement weather and even smash and grab opportunists that may only have to reach into the back of a truck bed.
More importantly, the right combination of locked containers may be necessary legally transport firearms, generally speaking, in some states but with specific emphasis on California.
A more specialized type of hunting is that of the professional bail enforcement agent who is hunting wanted felony fugitives for the purposes of exonerating a bail bond as an agent for a bail bonds company or bail insurance company.
Rex Venator is a professional bounty hunter of more than 22 years, a bail bond agency owner, and the primary instructor for California's Fastest Growing, Most Transparent and Most Trusted name in bail agent pre licensing for both aspiring bail bond workers and fugitive recovery agents—Bailspeak.
In this video, Rex spends an exceptional amount of time explaining why he chose the Dodge Ram 1500, Leer 700 Tonneau Truck Bed Cover and the Decked truck bed organizer and how it all works near symbiotically with the equipment of a professional hunter of mammals that can and do shoot back.
What are Alumni saying about this Cutting-Edge Fugitive Recovery School?
"The advice from the instructor regarding bail gent certificate and bounty hunters.  I look forward to taking future courses provided by this instructor."
"Cut & Dry, straight forward.  Thanks!  I've considered law school and will more than likely go through with it.  It has reinforced my outlook on the law."
"Great class!  I can't wait for the refresher course!  It was very educating and entertaining!  Moved a little fast, but the handouts provided me with everything I need to be successful while taking the bail exam.  The instructor impressed me with his knowledge of the law and bail."
"The speaker gave good examples.  It was not boring and I was able to stay awake! I like the course I was expecting the instructor to just read the codes.  I understand how bail works now & have a better understanding."
"I liked everything!  I really appreciated the information provided."
"The study book."
"Learned about bail."
"It was easy to understand the code sections as explained by the instructor which can be very confusing for some.  Even though a lot of information is covered it was very easy to understand as presented."
"The hands on training.  I liked everything!"
"How in depth it was.  It wasn't boring and straight reading of codes and procedures!  Its an intense course, but its worth every minute.  The information is invaluable."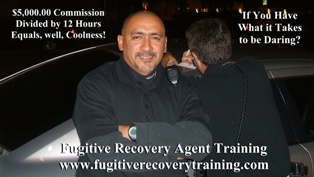 What does it take to become a bounty hunter?  While this video [CLICK ON THE ABOVE PHOTO TO VIEW THE FUGITIVE RECOVERY VIDEO AT POINT] has been posted before, it appeared here many, many Bailspeak Alumni ago, so, for Bailspeak Alumni who may not have viewed this particular subject matter, imagine apex hunters relentlessly pursuing a bounty to the extent that the bail jumper is never allowed to rest, to stop looking over his or her shoulders, and certainly not allowed to sleep if any of which is at all possible—that is what it takes to be a bounty hunter.
The bail jumper profiled in the video and caught on Taser Cam rented the room, we entered after no surveillance, less than 72-hours earlier and in a distant county; moreover, he was wholly stunned that he was, well, not allowed to sleep without first becoming a guest of his sheriff.
Bailspeak 2015 is going to rock! 
FUGITIVE RECOVERY EQUIPMENT SUPPLY STORE
TASER - KEVLAR - BODY CAMS - BADGES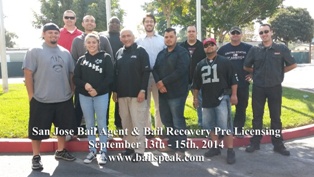 This Bail School has been declared by its nearly 4,000 Alumni to be the most Trusted, Most Transparent, and most Effective set of California Bounty Hunting School Classes routinely held in the following Areas: Sacramento, Roseville, Modesto, San Jose, Bakersfield, Los Angeles County, Orange County, Riverside County, and San Diego County.
"A notable percentage of a California powerhouse in the California Bounty Hunting Industry is made up of an Elite Group of Top Producing Bailspeak Alumni."
 ~ 25DEC15, Source: Name Withheld for Operational Security Purposes